AcceleDent® Aura in Aurora and Parker, CO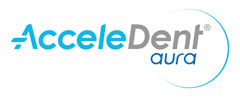 Do you want to improve the look of your smile without spending years in braces? Dr. Roger Elton offers AcceleDent Aura, a compliment to your orthodontic treatment that can accelerate your tooth movement by up to 50% and decrease discomfort by up to 70%!
AcceleDent Aura is the most advanced accelerated orthodontic device that, when used 20 minutes a day, can give you a faster and more comfortable orthodontic treatment with braces or aligners. Dr. Elton recommends AcceleDent Aura for use with both traditional braces and clear aligners, making it available for just about everyone.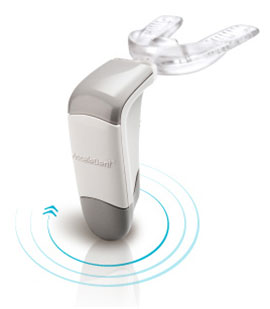 How does AcceleDent Aura accelerate treatment?
Using AcceleDent Aura's SoftPulse Technology®, the hand piece releases a safe and effective light force pulse that transmits through the roots of your teeth to the surrounding bone socket. This helps to accelerate the cellular response and speeds up the rate at which your teeth can move. The AcceleDent Aura device is lightweight, easy to use, and fits your busy schedule—you only need to use it for 20 minutes each day! It is cleared by the United States Food and Drug Administration and clinically proven to speed up tooth movement while reducing orthodontic discomfort.
If you are interested in faster, more comfortable treatment, AcceleDent may be a great addition to your orthodontic treatment! Find out more by scheduling an appointment with Dr. Elton at our Aurora or Parker, CO orthodontic offices!